What to Do When Windows 10 Won't Shut Down!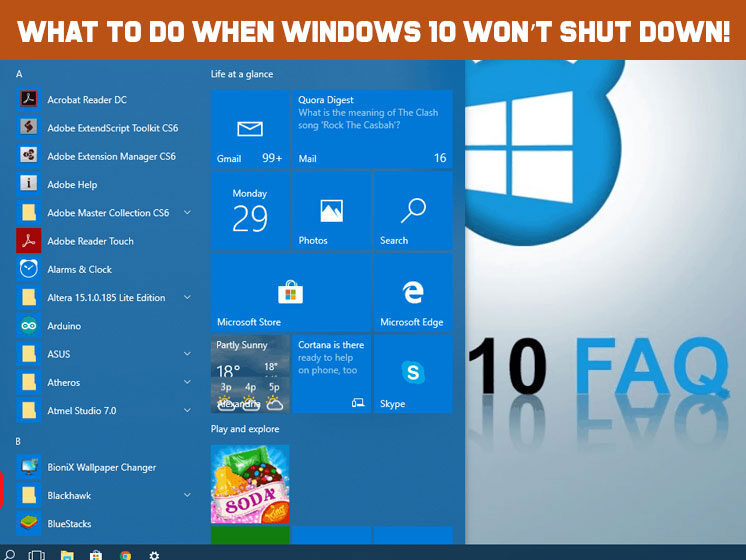 Windows 10 is the latest version of the Windows operating system that comes with plenty of features. Unless your system has any issue, it should be shut down with the click of the option. If Windows 10 won't shut down even after repetitive attempts, there is probably a technical error on your machine.
Sometimes it might be tricky to find out what causes Windows 10 not shutting down. It may be a Hybrid shutdown, incorrect power configuration, or any application running in the background. Regardless of the reason, there are multiple methods to try in order to fix the issue. Do you want to know the methods to apply when your Windows 10 won't shut down? The coming section will elaborate on the same. But before that, we want to share the actual reasons why Windows 10 stuck on shutting down.
Why Windows 10 Won't Shut Down Occasionally?
Your computer is like a child, you need to handle it carefully and patiently. If you apply force to shut down your system, it will either deny or may cause any severe error. Further, if you don't take action to fix the issue, it will affect the consumption of the hard drive or CPU. Therefore, it is important to know the reasons that cause Windows 10 won't shut down.
Following are the possible reasons that can restrict you from Windows 10 shut down-
Unwanted applications running in the background
Demanding Windows upgrade
Fast startup Enabled
The taskbar isn't working
Windows system files are corrupted
Possible Fixes When Windows 10 Won't Shut down
After spending nine hours on the computer, everyone wants to finish the tasks quickly, turn off the system and run home. But when you start checkouts and encounter the 'Windows 10 won't shutdown' problem, it becomes the most frustrating situation of the day. Although it is a common problem, it is difficult to solve when you have no idea about what causes it.
Usually, Windows update processes cause 'Windows 10 won't shut down'. In general, Windows 10 updates can take a few minutes or sometimes hours. If this is the cause, you have to wait for at least three hours and have patience.
If the time is up and Windows 10 is still stuck on shutting down, that clearly means there is no update processing problem, and you'll have to try the following solutions.
Solution 1: Apply Force Shutdown
Force shut down your device via the power button won't harm your machine. So doing it once in a while in a certain situation such as 'Windows 10 won't shut down' is safe. Here is how you can do it simply-
Press and hold the power button simultaneously until the computer is turned off,
Now remove all the cables, unplug the power code, and remove the battery also if possible for 5-10 minutes,
Put everything back together and start your computer,
Now try to shut down normally, hopefully, it won't be stuck now.
If Windows 10 stuck on shutting down, force shutdown is the most feasible and fastest solution. On conditions that it doesn't work or you're not in favor of force shut down, you can count on other solutions that are discussed below.
Solution 2: Make Sure You're Using Latest Windows 10 Version
The problem, Windows 10 won't shut down, can also occur with the outdated Windows version. Using the latest Windows version is always a good idea to keep yourself updated with the new features and avoid common problems. Follow the below instructions carefully to properly update Windows 10.
Go to 'Settings' and click 'Update & Security',
Choose 'Windows Update' from the left panel and select 'Check for Updates',
Now your system will process download and install new Windows 10 version,
Wait until the Windows update and installation finish,
Windows 10 not shutting down problem must be resolved now.
Solution 3: Disable Fast Startup
If Windows 10 won't shut down usually, you need to take quick and effective action against the issue. A system with a fast startup runs 30% faster than a computer with other Windows. However, fast startup is a combination of Microsoft's sleep mode and shut down function. But sometimes it can interrupt the shutdown process; hence Windows 10 stuck on shutting down. In that case, try disabling fast startup with the following steps.
Open 'Control Panel', search and click 'Power Option',
From the left pane, select 'Choose What the Power button Do',
Choose 'Change Setting That Are Currently Unavailable',
Make sure the check box before 'Turn on fast startup' is unchecked,
Click 'Save Changes' and close the Windows.
This process will disable fast startup and probably fix the 'Windows 10 not shutting down' error. If Windows 10 won't shut down is still the case, there is still a way to fix it.
Solution 4: Repair Windows System Files
After you update Windows 10 and disable fast startup, the problem still persists; repairing Windows system files can help you. Sometimes, Windows 10 stuck on shutting down because Windows system files are corrupted. If you don't know how to repair Windows system files, here are the steps.
Press 'Windows + R' simultaneously,
Put 'cmd' in the text bar and click 'OK' to run the administrator,
Now enter the command 'sfc/scannow' and hit Enter,
Have patience until the process completes 100%,
When you're done with the entire process, reboot your system to check whether or not the 'Windows 10 won't shut down' problem is resolved.
When Windows 10 stuck on shutting down, it is the most irritating situation. But you need to handle it smoothly and calmly. The good thing is- there is a solution to every problem and in this situation, you have multiple tricks to fix the problem. Here is another method that works well with the 'Windows 10 not shutting down' case.
Solution 5: Have Control Over Automatically Starts Applications
Sometimes, some applications start working automatically in the background, and they don't stop easily even when shutting down the computer, which eventually causes Windows 10 won't shut down. So have control over those applications and save yourself from the situation Windows 10 stuck on shutting down. It will speed up the system process and also smoothen shutting down processing. So here is how to do-
Press 'Ctrl+Shift+Esc' together to launch Task Manager,
Click 'More Details',
Choose 'Start-up' from More Details option,
Your applications will be displayed on the screen; choose the application you need to have control over and right click to disable.
You may come across Windows 10 won't shut down anytime, irrespective of you're already using the updated version of Windows 10 or having control over your applications. Having patience with your computer and little tweaks & tricks will help you to come out of this daunting situation soon.
When you feel helpless or uneasy, even with this guide, you can reach our experts without a second thought in mind. We bet we're the best partner to help you in any situation, no matter where you're located.