Connection Failed with Error 651? Here's How to Troubleshoot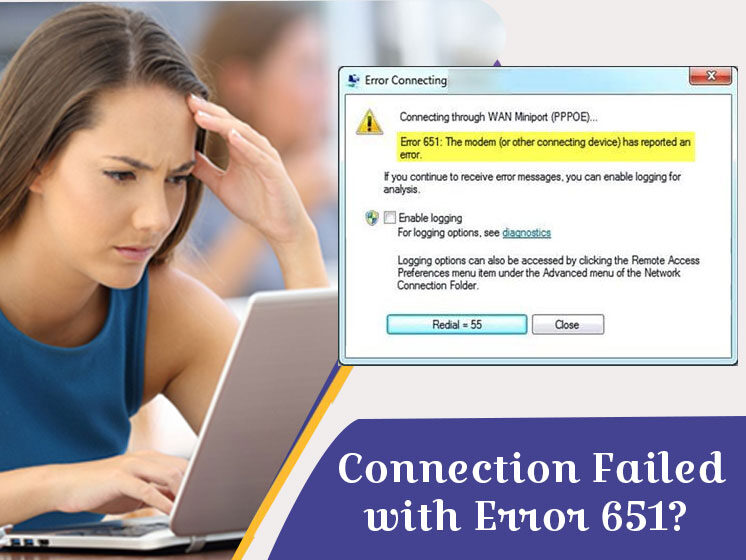 The operating system developed by Microsoft is the most convenient for private and professional users. At the same time, when it comes to connecting the internet to the computer, it sometimes goes through various problems. Error 651 is one among them. Regardless of which Windows version you're using, be it Windows 10 or Windows 7, it suddenly appears on the screen in a small pop-up window. The variety of issues trigger Error 651, but it always displays in the following way:
Though Error 651 is a common error and shouldn't cause a computer to shut down, blue screen, and restart. But you need to fix this error as early as possible if you want to access the internet on your computer. Yes, Error 651 is an internet connection error on your computer. It indicated that an attempt to connect to the internet on your computer was unsuccessful or the existing connection has been terminated. Users often struggle to fix the error as they are not aware of its causes. So let's first discuss the situations that cause Error 651. 
Windows Error 651: Reasons Behind It
The major reason that causes Error 651 is improper modem setup. But the fact is, even if your system is correctly connected to the router, there is no guarantee that your system won't show Error 651. From improper modem setup to driver problems, there are a lot of reasons that trigger Error 651 problems. Here are some common reasons behind it that a user should know to rectify it.
Disabled LAN,
Broken internet configuration,
Corrupt Windows Registry Database,
Wrong or Damaged IP settings,
Firewall or Antivirus Software is blocking the networks,
The presence of malware can interrupt internet settings,
Wrong broadband connection,
Erroneous modem setup,
Corrupted registry files,
Problem with IP address,
System driver damaged due to virus on the system,
Missing system files, such as respppoe.sys.
Running into Error 651 can trouble a user with the internet connection. Apparently, users will search for how to fix the Error 651 guide to troubleshoot the glitch. There might be many solutions to fix the error based on the cause and operating systems. We are going to discuss the different methods to tackle Error 651 in different situations.
Troubleshoot Error 651: Simple How-to Guide
Whether you're using Windows 10, 8, or 7, Error 651 can occur in any operating system due to any reason. The following guide provides you solutions to sort out Error 651 in Windows 10, 8 and 7. Take a walkthrough of the guide and check which solution will fit best to your situation.
Fixing Error 651 in Windows 10
Facing Error 651? Below methods will help you to solve Error 651 in Windows 10.
Method 1: Restart Network Device and PC
Before you go with other technical workarounds, restarting your network device such as a router, LAN Cable, etc, is the most efficient option. This means disconnecting your router or LAN adapter from the power source and reconnecting it after 30 seconds. Probably this method should work if there is no other technical error than improper cable setup.
In case the error 651 still persists, you can try restarting your computer. To restart your computer to fix Error 651 in Windows 10, you need to go to the start menu using the Windows button, click the 'Power' button and click on the 'Restart' option.
Method 2: Reinstall Network Adapter Driver
When it comes to network connection on your system, the driver plays an important role. Windows 10 is Microsoft's latest operating system with lots of top-of-the-line features and fewer shortcomings. But there is always a possibility that the driver software gets out-of-date or damaged or even entirely missing and can cause Error 651. In this case, Reinstall the Network Adapter is one of the easiest ways to solve Error 651 in Windows 10.
The step-to-step guide to reinstalling the driver is as follows:
Click 'Windows icon' and type 'Control Panel' in the search box,
Open 'Control Panel' and select 'Device Manager' from the list,
Click on the arrow option and open 'New Adapter',
Right-click on the 'Ethernet Connection' (option responsible for LAN Connection), and select 'Deinstall',
Now restart your system. By the time your system is restarting again, the driver will automatically load and install.
Alternatively, you can download the driver for the adapter directly from the manufacturer's website and install it manually.
Although, the procedure to reinstall the driver is smooth. In case, you're unable to proceed in this procedure or this method doesn't work, seek assistance from our experts.
Alternatively, you can try a third method on how to fix Error 651, which is Replacing the current version of file raspppoe.sys.
Method 3: Replace the Current Version of File raspppoe.sys
Raspppoe.sys is another culprit behind Error 651. So if your Windows 10 is showing Connection Failed with Error 651, chances are the file is damaged.
If you have alternative devices with Windows 10, check whether the LAN is properly working on it or not. If you find it working, as usual, you can replace the damaged rapppoe.sys file with intact version. To do so, follow these instructions:
Open the Directory\Windows\System32\Drivers,
Copy the file named rasppoe.sys using right-click onto any external storage device such as USB,
Connect that device to the computer having Error 651,
Now open the Directory\Windows\System32\Drivers and replace the raspppoe.sys file with the one from your storage device.
Give a restart to Windows 10
Necessary Tip: If you haven't access to the raspppoe.sys file (Copy and paste), you can allow yourself the necessary authorization. The following tips will help you to do so:
Navigate to raspppoe.sys file and right-click on it,
Choose 'Properties',
Click on 'Security',
Change the access authorization for user accounts.
That's all.
If you're using Windows 8 and come across Error 651 while connecting the internet to your system, don't worry, we can troubleshoot that also. Here is the quick easy guide to fix Error 651 Windows 8.
Fixing Error 651 in Windows 8
Error 651 is a common problem that can occur in any operating system. Check out the possible fixes to Error 651 Windows 8.
Method 1: Boot Your Computer
Error 651 may have occurred due to a conflicted IP address or error in registry files. You can troubleshoot it by booting your computer. Boot your computer safely with the following steps.
Press Windows + R Keys,
Type MSCONFIG and click OK,
Now click Boot Tab under Boot option,
Select Safe Boot, check Network Checkbox, and click OK.
When you are done with this, Restart your Computer.
Once you restart it, try connecting the internet to your system. Probably it will get connected now. On conditions that the problem still persists, move on to the next method without a second thought.
Method 2: Perform Clean Boot
When the above method could not help you in fixing Error 651 Windows 8, a clean booting may help you to rectify the error. Follow the steps to do so.
Open Run tab using (Windows + R) keys,
Type MSCONFIG in the dialog box and click OK,
Click Boot tab and uncheck Safe Boot,
When complete til here, go back to the General Tab,
Select 'Selective Startup' from the options and uncheck options to clear selected options,
Next, navigate to the services and click 'Disable all button',
Go to the Startup and disable each item,
Once you successfully finish till here, Restart your computer,
Guide: Don't hesitate to seek assistance from Pre PC Solution in case you feel it is required.
When your computer restarts on a Clean Boot, press Windows + R again and type MSCONFIG and click OK.
Go to the Services tab, click on Hide all Microsoft Services, and hit OK,
Now restart your computer again and if Error 651 is resolved.
Method 3: Unplug the Wires
The very basic solution to any problem is restarting the device or re-plugging all wires. If you're using a LAN connection or router, unplug the LAN wire from your computer or Switch-off the router. Now give 5-7 minutes to both and again plug in the wire and start the Wi-Fi modem. After starting your system, give it a rest for 2-3 minutes and then establish the connection once again. This method helps numerous people in fixing Error 651 Windows 8 and even Wifi Error 651 Windows 7. If this method is successful in fixing the issue, please mention in the below section by commenting.
Fixing Error 651 in Windows 7
Windows 7 users are not apart from Windows 8 or 10 users. But the good thing is- the solution is available for all. If you're using Windows 7 and reporting Wi-Fi Error 651 Windows 7, follow the simple guide to fix the issue quickly.
Method 1: Reinstalling the Modem Software
All you need to know is Error 651 occurs when your system doesn't get proper networks. If your network device is installed incorrectly, it can cause Error 651 and it reflects as Connection failed with Error 651. The first thing you can do on your own is reinstalling the router. It is the most suitable and effective way to fix Wi-Fi Error 651 Windows 7. If Error 651 was reporting because of this reason, it will be resolved after reinstalling the modem. Alternatively, you can simply connect to Pre PC Solution experts for further assistance.
Method 2: Restrict Internet Connection from IPv6
Restricting internet connection IPV6 can resolve Error 651 in Windows 10, 8, and even 7. To solve the issue using this method, follow the below-mentioned steps.
Go to the Taskbar of your system,
Right-click on the 'Network' icon,
Click and Open Network and Sharing Center,
New Windows will launch; click on Change Adapter Settings and select the network you're connected to,
Once you're done with this, Right-click on the screen and open Properties,
Untick the IPv6 (Internet Protocol Version 6) and click OK,
It's time to Restart your PC
Hoping that you should no longer report Error 651 while connecting the internet to your system.
Method 3: Reinstall LAN Driver or LAN card Driver
The next thing you can do is to reinstall LAN Driver. It is the simplest procedure and can be done in a short span of time. Find a Driver on your system depending on the motherboard of your system. If you're using a branded laptop, you can simply reinstall it from the official website of the manufacturer by providing the model number.
Verdict!
Error 651 is the most annoying problem. Most people search for the methods on how to fix Error 651 and often end with unsuccessful solutions. This guide contains self-tested methods that work 100% with Windows 7, 8, and 10. There are chances that every method won't fit your situation due to the different causes of the error. So we suggest you identify the reason behind the issue before choosing the solution. We have already discussed various possible causes of Error 651 with their solutions. Seek direct help from Pre PC Solution, in case you find yourself lost somewhere!
Still facing the same issue? Looking for expert guidance? Get in touch to get fast solutions to troubleshoot all sorts of technical or non-technical issues. Call us or chat online!