Garmin Nuvi 1300: Learn How to Update it Easily!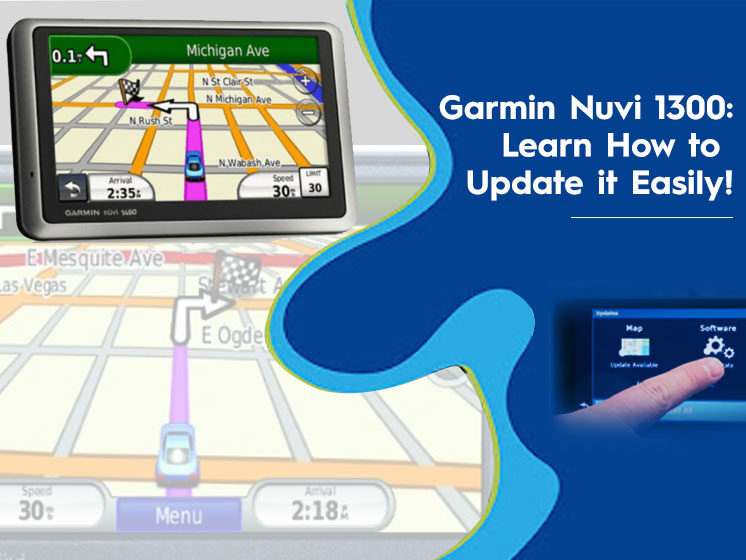 Garmin Nuvi is a GPS device that comes with impressive features. The company leaves no stone unturned in making the user's journey easy and enjoyable.
When using GPS Nuvi 1300, one should update their maps timely to avoid faults and stay updated with the new routes. Garmin updates are released occasionally to make the user experience smooth and trouble-free. To get the latest update of Garmin Nuvi 1300, you should know how to do it. The below-mentioned details will help you to learn the Garmin Nuvi 1300 device update process in the right way. Updating Garmin Nuvi is a simple procedure. You can do it with the following two methods. You can also read How to update Garmin Nuvi 200.
How to Update Garmin Nuvi 1300 Easily and For Free?
Updating the Garmin Nuvi device is easy if you know the correct way. You can update the device easily with the help of Garmin Express software for free or you can install community-created maps from an unaffiliated website.
Method 1- Using Garmin Express Software
To update Garmin Nuvi 1300 for free, Garmin Express Software is the best way. Follow the step-by-step guide to download the latest version of the device easily.
Step 1- Go to the Garmin Express website,
Step 2- Click 'Download for Windows' or 'Download for Mac', according to your device type,
Step 3- Install the Software correctly,
Step 4- Once you're done with the downloading and installation, link your Garmin Nuvi 1300 to your computer,
Step 5- Open Garmin Express by double-clicking on the icon and clicking on 'Get Started',
Step 6- Now click 'Add Device' when prompted. This will begin the Garmin Nuvi setup process,
Step 7- Follow the on-screen instructions to finish the setup process,
Step 8- Click 'Install', it will start updating your Garmin Nuvi 1300 device.
Wait for Garmin to finish the update. Have some patience, because it can take hours for all Garmin updates to install. When the installation completes successfully, you can disconnect Garmin Nuvi 1300 from the computer. You can re-update the device any time with the same procedure.
Method 2- Using Maps from Other Sources
OpenStreetMap is a community-driven site that offers information and maps from all over the world. You can download and install these maps if Garmin Express Software doesn't work for you. Let's begin with the procedure.
Step 1- Download a free map image file,
Step 2- Plug in your Garmin Nuvi 1300 into your computer using a USB cable,
Step 3- Now put your Garmin Nuvi into 'USB Mass Storage' mode. It will allow you to copy the files to and from GPS.
Step 4- Open the Garmin's storage on your computer (Windows/Mac)
Step 5- Open the 'Garmin' or 'Map' folder. (if you can't find it, create a new one)
Step 6- Copy the downloaded map files and paste them in 'Map' or 'Garmin' folder,
Note – The copying process will take time depending on your file size.
Step 7- Once the process completes, disconnect the Garmin Nuvi 1300 from your computer.
Step 8- The device will reboot after it is disconnected from the computer. Once it finishes booting, you'll need to select a new map and disable the old one with the following steps.
Open the 'Tools' menu and choose settings,
Select Map> Map Info,
Uncheck the old box map and check your new map's box.
With these two methods, you can update your Garmin Nuvi 1300 device hassle-free. The new update will help you with the new routes and a seamless experience. You should update your device frequently to enjoy the latest features of the device.
Garmin Nuvi 1300 is a helpful device to make your journey smooth and save your time. Despite helping you with easy navigation, it may get stuck with some technical error. What to do in that case? Relax, Pre PC solution has a solution to all types of errors.
Whether you're stuck with the Garmin Nuvi 1300 update or unable to install the device, call on our toll-free number and consult your issues. At the Pre PC solution, you can leverage 24*7 services. Get an instant response from our experts and enjoy your journey.