How To Fix Wi-fi Issues In Windows 10 In Easy Ways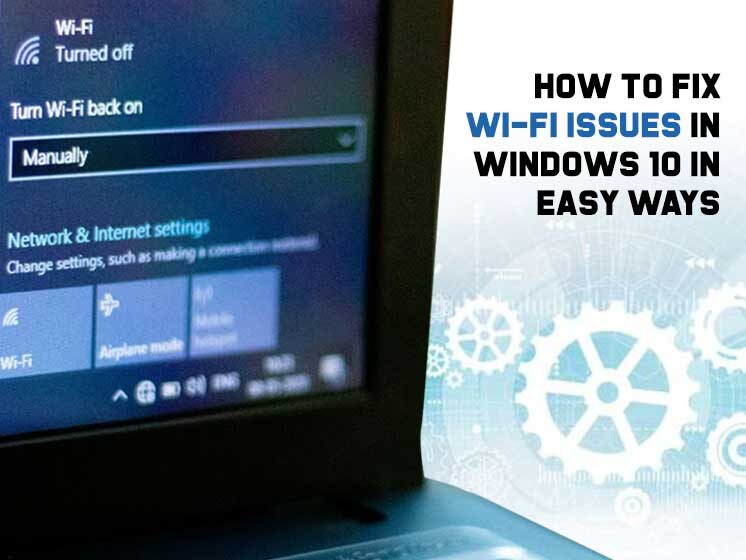 Facing WiFi issues in Windows 10? Here is how to fix WiFi issues in Windows 10. In this blogpost, we will share some easy tips & tricks to resolve Wi-Fi issues in Windows 10 at ease.
Having a proper internet connection in a laptop is as important as sugar in sweets. In today's digital world, when most tasks are dependent on the internet, even a little Wi-Fi issue can frustrate a lot.. If you're using Windows 10 and confronting Wi-Fi issues, you have reached the right place. We bring a few simple ways on how to fix Wi-Fi issues in Windows 10. So next time when you or your friend face an internet issue in Windows 10, reach us. We'll give you the best possible solutions to fix either Wi-Fi or any other Windows 10 issues.
An internet issue is the most common issue a user comes across. There may be any reason behind the unstable internet connection. Troubleshooting the Wi-Fi issue on Windows 10 is not rocket science. The earlier you identify the cause of the unstable internet connection, the sooner you will be able to fix the issue.
In a nutshell, your Windows 10 Wi-Fi issue is completely dependent on its causes and can be solved as soon as you identify the cause.
Let's start a guide on how to fix Wi-Fi issues in Windows 10 by identifying the causes and troubleshooting them.
1- Wi-Fi Connected but Showing No Internet Connection
Sometimes, Windows 10 is claiming you're connected to the internet but you won't be able to access the web. Generally, the issue is caused by either a faulty TCP/IP stack or IP address. Here is how to fix Wi-Fi issues in Windows 10.
Start with running Windows's native Network Troubleshooting tool. You will find it in this way- Settings>Update & Security>Troubleshoot>Internet Connections.
If this doesn't work, try another option. Start with opening Command Prompt and type
Netsh winsock reset
Netsh int ip reset
ipconfig/release
ipconfig/renew
ipconfig/flushdns
If this method didn't work, try another solution on How to fix Wi-Fi issues in Windows 10 mentioned below.
2- Windows 10 Is Unable To Connect to Wi-Fi
If your Windows 10 is showing a message- 'Windows 10 can't connect to this network', there is nothing strange. Sometimes your system is unable to connect to the network. The best solution to fix internet issues is to uninstall the network adapter and allow it to be reinstalled automatically. Here is how to fix Wi-Fi issues in Windows 10.
Press Windows Key +X and click the device manager.
Now right click on the network adapter and select Uninstall.
Next, Click on Driver software.
Restart your system and Windows 10 will automatically reinstall the driver.
This is a simple method to fix your internet connection in Windows 10. If you're stuck with your Wi-Fi and unable to continue your work, try this method.
3- Wi-Fi doesn't have a Valid IP Configuration
If your Wi-Fi is not working in Windows 10, check whether or not your internet connection has a valid IP configuration. If not, you should start by entering the aforementioned commands.
If the issue persists and your Wi-Fi is still not working, you can follow below-mentioned two steps on How to fix Wi-Fi issues in Windows 10.
Change the Network Name and Password
Sometimes simple actions like reconnecting the cable or resetting the name and password can fix the issue.
So without becoming too technical, start with resetting the password, reconnecting the router and other simple solutions.
Set the Wi-Fi Network's Channel Width
If 'how to fix Wi-Fi issues in Windows 10' is something you are looking for, here is how you can troubleshoot it.
Wi-Fi routers can broadcast their networks on different channels. If too many routers are working in close, the airwaves can become cluttered.
To fix the issue, log in to your router's portal and locate the channel setting. Set it to Auto, if possible. If there is no Auto setting in your router, try a few different channels and check if it goes well.
4- Check Windows 10 Wi-Fi Driver Issues
As we have mentioned above, there are various reasons behind the Wi-Fi issue in Windows 10, Wi-Fi driver issue can be one among them.
There are a couple of steps you can take to fix the Wi-Fi driver issue in Windows 10. Here are the steps on how to fix Wi-Fi issues in Windows 10.
Start with a right-click on the Start Menu
Next, click on Device Manager
Go to Network Adapters
Now right-click on the adapter and select Properties & click on the Driver tab
Choose either Update Driver or Roll Back Driver
5- Forget Wi-Fi Password? Here is How to Find
Setting a password in your Wi-Fi is good practice from a security point. But what if you have forgotten the password you have created? If Wi-Fi is not working in your Windows 10 and you may check the password you have previously. Follow the below-mentioned steps to find the password of your new Wi-fi.
Right-click on the Network icon in the Taskbar to open the settings.
Now click on the Change Adapter option.
Right-click on your Wi-Fi connection and select status.
Next Click on Wireless Properties, then Security tabs.
Mark the Checkbox & it will show the characters.
Internet connection is one of the frustrating issues in Windows 10. But it is not something that can not be resolved. You just need to learn a few tricks and you can troubleshoot the issue. So whenever you stick with the Wi-Fi issue and looking for ways on how to fix Wi-Fi issues in Windows 10, think about us.