How to Fix Windows Update Error 80092004- In Easy Ways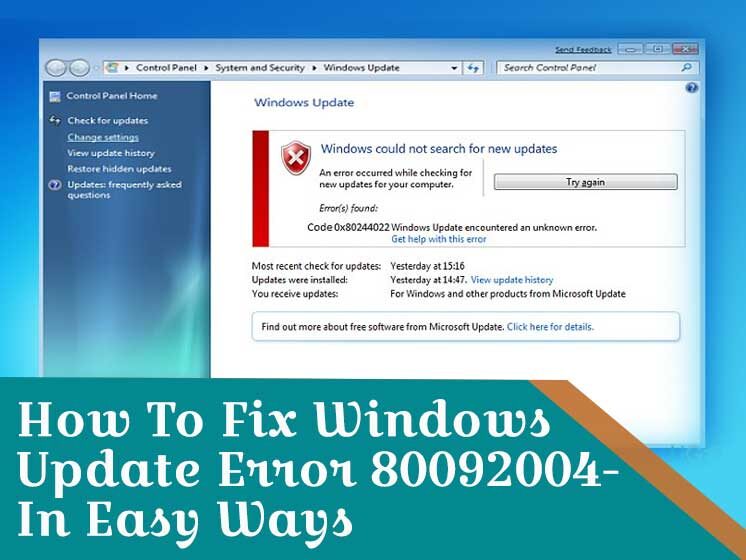 Does your system show a CRYPT_E_NOT_FOUND message whenever you update the Windows? There could be Windows Update Error 80092004 that a user can confront while updating or installing Windows. If this is the case with you and are looking for ways to fix the issue, here is a simple guide for you discussing easy ways on resolving Windows update error 80092004.
First, let us discuss what basically Windows update error 80092004 is and when it occurs.
What is Windows Update Error 80092004 and What Causes it?
In general, Code 80092004 is an error that is associated with the August 2019 Windows security update. It comes with the CRYPT_E_NOT_FOUND message that indicates Windows update can't proceed because the cryptographic values required by the update package are not available.
The possible causes that are responsible for this error are as follows:
System File Errors
Incomplete Windows Update Installations
Adware or Spyware
Corrupted or Damaged Windows system files
Improper Deletion of Hardware and Apps
Improper Shutting Down of PC
Windows Update Error 80092004: Simple Ways To Fix the Issue
If you're getting Windows update error code 80092004, fret not. Simply follow the below-mentioned solutions to resolve the error.
Solution 1: Run the Windows Update Troubleshooter
To get rid of Windows update error 80092004, the first thing you should do is to run a Windows update troubleshooter. If you don't know how to do it, here is a simple guide.
Open 'Setting'.
Go to 'Update & Security'
Find Troubleshooter
Hit Run
You can find an online Windows update troubleshooter on Microsoft's Website.
Solution 2: Clean Up The Software Distribution Folder
Another way to fix Windows update error 80092004 is to delete all the files from your Software Distribution folder and download the folder again. For this, follow the step-by-step guide.
Go to C:\Windows\SoftwareDistribution
Delete everything from the folder (don't delete the folder)
This is an effective strategy for the case of faulty updates as it will force Windows to re-download.
Solution 3: Install and Update Manually
If you're facing trouble even after running the troubleshooter and cleaning up the software distribution folder, you can try downloading and installing the update manually. This solution will work with Windows update error 80092004. It is simple to install and update it manually if you follow the following steps correctly.
Go to the Microsoft Website
Download the Update
Once the download is completed, Run the update and follow the prompts to install it
If it gets installed without hurdles, start using
Solution 4: Repair Corrupt System Files With SFM and DISM
The SFC (System File Check) tool usually comes preinstalled on your Windows device. It predominantly focuses on scanning your Windows system files for any signs of corruption or damage. If you're confronting Windows update error 80092004, you should repair corrupted files with the help of SFM and DISM. Here is how to do it.
Open an elevated command prompt Windows
Input sfc/scannow
Click Enter
In case the SFC tool doesn't work, DISM (Deployment Image Servicing and Management tool can be used to get the damaged Windows system files fixed. Here are the simple steps to run DISM.
Type: DISM.exe/Online/Cleanup-image/Restorehealth
Hit Enter and wait for few minutes to let it complete
Once complete, Restart your PC to get the corrupted files replaced with stuff
Repairing the corrupted files is the another best option to fix error code 80092004. When the above three solutions don't work, this option is worth trying.
We hope this guide helped you to fix Windows update error 80092004. Don't hesitate to contact us in case you need any assistance. We have a team of experts that have years of experience and apt knowledge to fix any sort of problem. With our technical skills and talent, we'll keep your PC running fast and smooth.
Thank You for Your Time!